Quick Connect Computer Services provides computer repair in the Lincoln and Omaha Nebraska areas. You'll find us friendly and knowledgeable and always willing to help. We offer in-office and on-site repair services to get your computer back up and running. Make sure to ask about free pickup and delivery as well* – it's included with most jobs we do. We have a spotless Better Business Bureau Record and we've been in business since 1996, so we're someone you can count on to get your repair done right the first time. We have also won the Better Business Bureau Integrity Award for our dedication to delivering honest, high-quality work.
Our Repair Services for Home or Business:
Computer Repair
Spyware Removal
Virus Removal
Windows Server Support
Wired and Wireless Networks
One-on-one tutoring at your home or office
Give our Lincoln store a call today at (402) 434-2828 for more information, or to schedule an appointment.
Quick Connect Computer Services
233 N 48th St
Suite P
Lincoln, NE 68504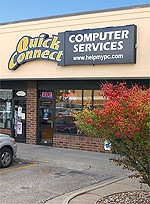 Directions to our Lincoln Nebraska office:
From O Street (US HWY 6) head to N 48th St
Head north from O Street and turn left at the first light by Target and Super Saver
Continue straight through the parking lot and head in between Target and Super Saver
Our store is on the north side of Super Saver facing Target.
Get directions from Google Maps to our Lincoln Store
We provide computer repair services in Lincoln Nebraska as well as many other services. Make sure to check out our other services.
Computer Repair in Omaha, Nebraska