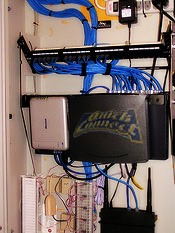 If you have more than one computer in your home or office you should consider having a network setup to connect them together. Here are a few things you can do with a home or office network:
Shared internet connection
File sharing between computers
Share a printer between computers
We provide on-site setup and installation of computer networks for both wired and wireless. With a wireless home network, it is especially important to make sure that the network is secured so that unwanted guests don't use your internet connection without your permission. If you are having trouble deciding what kind to use,  we can help you plan and maintain your network.
Home Network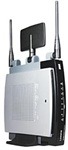 A home network is a great way to get the most from your broadband connection. With a home network, you can share high-speed Internet access between multiple computers at the same time. If you have a laptop and a wireless home network you can surf the Internet from anywhere in your house. These are the home networking services we provide:
Initial setup for wired or wireless
Setup broadband connections for sharing
Install wireless security to keep out unwanted users
General troubleshooting
Office Network
An office network is essential to fast communication in the modern workplace. Email, file sharing, and printer sharing can add convenience and efficiency to any business. These are the office networking services we provide:
Running all the wires for your network
Setup file sharing
Setup your broadband connection for sharing
Install wireless security to keep out unwanted users
Set up a VPN for secure remote networking
General troubleshooting
If you have any problems or questions regarding your network, give us a call. We'd be happy to answer any of your questions and even set up a time to talk with you in person to discuss your networking needs.
We also offer Block Time to our local businesses, if you have have questions, give us a call. We are happy to help!