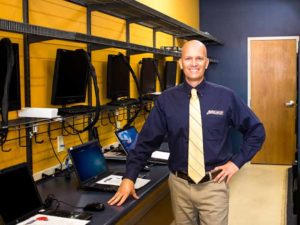 We offer carry-in PC repair for your computer and gadgets with convenient curbside parking in addition to our expert on-site local computer repair services. Our clientele love using our walk-in service. When you bring your computer into our office, you'll see that there's a big button outside that you can click to summon a staff member right away and, if necessary, get assistance removing your computer from your car.
Once you're inside our office, the open floor plan and modern decor will make you feel certain that you've picked the ideal computer store. At our office, NO HIDING BEHIND A BARRIER! You will notice the workspace where we are working on your PC as soon as you walk in.
Quick and Effective Carry-In Repair
Our shops have over 25 full-sized workbenches, giving your computer a dedicated work area for your repair. Our technicians are constantly moving up and down the computer repair benches, giving each computer individual attention. While computers are running updates or scans, technicians will move to the next computer. This keeps the entire "assembly line" process moving. We can work on several computers at once, keep in-store repair times QUICK, and maintain our computer services thanks to our refined bench computer repair technique. With over 25 years of experience in the PC repair industry, we get better at restoring PCs every year.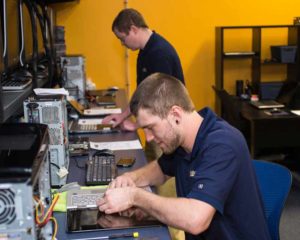 We keep a sizable supply of computer hardware and software in stock so that PC repairs don't have to wait on parts to ship. We collaborate closely with vendors when a computer part is particularly ordered to maintain a quick turnaround.
Although it is impossible to maintain every component needed, we do know which components are the most frequently used and work hard to keep our in-stock inventory current and useful to ensure that repairs are completed swiftly for clients. Additionally, we offer component repair. 
You have the choice of picking up your repaired computer yourself or taking advantage of our free local carry-in client delivery and setup service. When on-site repairs need to come in, we will also deliver those computers back out to clients with a smile. To give you the best possible computer repair experience from beginning to end, we will work at YOUR convenience.
Message Us! For a Quote immediately or for Driving instructions to one of our stores.