Quick Connect Computer Services is a full-service computer repair solution in Lincoln, NE and Omaha, NE and surrounding areas. We specialize in making sure your needs are met at all levels of the repair process including the following:
A friendly, spotlessly clean, contemporary and inviting atmosphere if you would happen to come into our shop.
A friendly, knowledgeable, experienced, and prepared technician if you would happen to invite us into your business or home for repairs.
Fast turnaround time due to the fact that most of us can't live without our computers.
Flat rate, affordable pricing structure with upfront and very accurate estimates that will reflect your final price.
60 day NO HASSLE follow up calls after the work is complete and if the problem reoccurs.
Convenient hours for our clients and emergency service if the situation requires.
Web Development
Did you know we also design websites?
We can repair your computer, upgrade your PC, and even restore a sluggish PC to its original factory like condition. We also help customers with the growing threats of viruses, spyware, and security. We can help meet your needs with both our on-site and carry-in services. Bundled with free pickup, delivery and NO CHARGE follow up calls up to 60 days after the original job, you'll find our service is truly full service.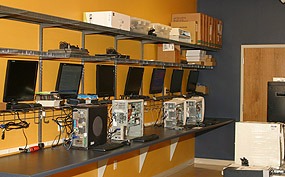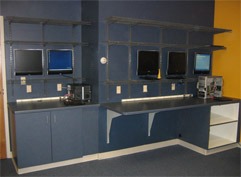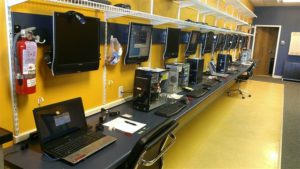 More Than Just Computer Repair
The photo above shows our standard office workbench. Flat screens mounted to the wall save us space and allow us to work on numerous computers at the same time in order to keep your turn around time fast. Your PC will be cleaned and repaired by our certified technicians. Each QC technician is trained through extensive hands-on training. And we keep our skills fresh by using them daily. We have a large selection of replacement parts on hand at all times to help quickly get your PC back up and running as soon as possible. Our on hand inventory is stocked with the targeted parts that will allow us to have 95% of what you need in stock. This allows us to keep turnaround time fast for you the customer.
Besides computer repair, we provide planning, setup, and support for wired and wireless networks. We also can recommend equipment that will suit your current and future needs. We currently support Windows 10, Windows 8, Windows 7, XP, Windows Vista, Linux, and Server Operating systems.  MAC Operating systems are supported as well.  We also support businesses with Windows Server based networks. We also have a long list of references of small to large companies that have used our services for many years.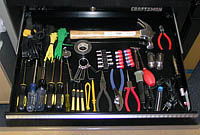 One of our workbench tool boxes.
Both local businesses and residential customers benefit from our on-site computer services. We have an innovative flat rate pricing structure that protects our customers from hidden charges. Our pricing also allows us to provide a follow-up call for up to 60 days after a repair job. Local businesses and select residential customers also benefit from our prepaid maintenance agreements. These maintenance agreements provide customers with outstanding priority service and an easy way to pay, saving them money off our normal rates. We are working to gain a customer for life; not just fix a computer. Being in business since 1996, we now support well over 15,000 satisfied customers and counting.
You can set an appointment online today, send us an email, or give us a call.
We really do live up to our slogan,
"We Can HELP! You With Your Computer Today."
Cities Served:
Ashland, Beatrice, Bennet, Bennington, Ceresco, Council Bluffs, Crete, Davey, Denton, Firth, Eagle, Elkhorn, Elmwood, Greenland, Hallam, Hickman, La Vista, Lincoln, Malcolm, Milford, Nebraska City, Omaha, Palmyra, Panama, Papillion, Ralston, Raymond, Roca, Seward, Sprague, York, Waterloo, Waverly.  Your city not listed here, just ask!