Quick Connect of Omaha, Nebraska can help…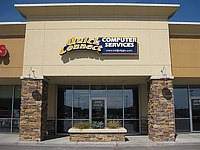 Quick Connect Computer Services provides computer repair in Omaha, Nebraska and Omaha, Nebraska areas. You'll find us friendly and knowledgeable and always willing to help with your computer repair – our slogan isn't "We're Connected with our Customers" for nothing. We are serious about helping repair your computer.
We offer in-office and on-site computer repair services to Omaha, NE areas to get your computer back up and running. Make sure to ask about free pickup and delivery as well* – it's included with all our computer repair services.
We have an excellent Better Business Bureau record and we've been repairing computers in Omaha since 1996, so we're someone you can count on to get your computer repair done right the first time.
Our Omaha Computer Repair Services:
Computer Repair
Onsite Computer Repair
Carry in Computer Services
Spyware Removal
Virus Removal
Wired and Wireless Networks
Windows Server Support
One-on-one tutoring at your home or office
Give us a call today at our Omaha Computer Repair Store (402) 384-2828 for more information, or to schedule an appointment.
Quick Connect Computer Services
2918 S 84th St STE B
Omaha, NE 68124   Business Hours: 8:30 am to 5:30 pm Monday through Thursday and 8:30 am to 5 pm on Friday. Saturday Hours 10 am to 1 pm.
Directions to our Omaha Computer Repair offices:
Take I-80 to the 84th Street exit
North a few blocks to Frederick Square next to Shopko before West Center in Omaha
Get directions from Google Maps to our Computer Repair Omaha Office
Find  our Omaha Repair shop  and follow us on Google Plus
We provide computer repair in Omaha, Nebraska as well as many other services. Make sure to check out our other computer repair services.
We serve Downtown, Midtown, North Omaha, South Omaha, West Omaha, and East Omaha. We also serve nearby Ralston, Carter Lake, La Vista, Boys Town, Council Bluffs, Papillion, Chalco, Bellevue, Crescent, Bennington, Elkhorn, Springfield, Washington, and Gretna.