2015 Jul
It was nice to have a break, but we are back to doing what we love.  Building and repairing computers!!   Offering computer repair services and custom built computers since 1996!  Not many computer repair shops have been in business as long!
Jun 09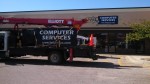 Well, it has been 10 years so our Computer Repair sign is due for a complete overhaul. It is going in a for a conversion to LED and full sand and repaint. A temporary sign with Quick Connect Computer Services logo is being put in it's place until they are done! Looking forward to another 10 years of service with the newly redone computer repair sign in Lincoln Nebraska
2015 May
It is official, a Jimmy John's is opening right next to our Omaha computer repair store in the fall.  They broke ground earlier this week.   We are excited for number one our lunch break and number two the increased traffic it will bring to our Omaha Nebraska Computer Repair location.  In Omaha, we are located in Frederick Square a few blocks south of 84th and West Center.