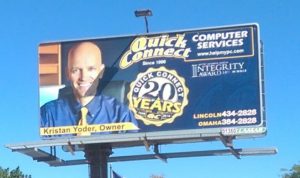 Check out our billboard posted yesterday at 33rd and O Streets in Lincoln to celebrate our 20th year in business.
This is a huge milestone and we are proud to celebrate this with our clients. We've come a long way in 20 years from a "one man" operation to now two full sized stores in Lincoln and Omaha.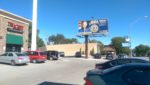 We weren't able to build this company to our 20-year milestone without our solid, repeat customer base that has grown every year. Back in 1996, computers were still more of a luxury than a necessity for many people. Look what computers have morphed to in this time! They have taken over every facet of our lives to some degree. We started with the motto that we still use today: "HELP! My PC Won't Work!" That phrase sums up our reason for being in business.
In addition to computer, laptop and tablet repair, we also build our own line of Custom Built Computers, the QCPC.  They actually start at around the same price as a box store computer.  The difference is that our computers come with all types of service.   Transferring information from the old PC to the new one, bringing out the PC and hooking it up, and a local warranty that is truly NO HASSLE are just a few extras built into your QCPC.  When you shop and compare, factor in that we can apply previous repair costs towards the purchase up to 90 days out (Some limitations apply, but not many.)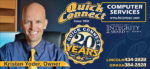 We get to live our passion for computers every day.  Yes, I realize this isn't everybody's passion!  That is why some of our customers have stayed with us for so many years. Computer Services are not what they want to spend their time doing.  They know who to call when they have problems with their current computer or an opportunity to learn and grow with a new computer.
Quick Connect Computer Services, 1996-2016; 20 years in business and counting!