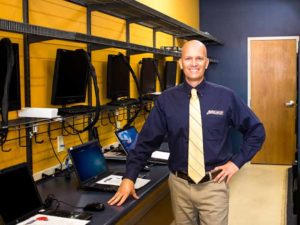 Besides our professional on-site local computer repair services, we also provide carry-in PC repair for your computer and devices with curbside parking available. Our walk-in service is popular among our clients. When you arrive in our office with your computer, you will notice that we have a prominent button outside our office you can press to have a rep come out immediately and help you take your computer from your car if necessary. Once your computer is in our office, you will notice how our open floor design and contemporary environment will help you feel comfortable that you've chosen the right shop to work on your computer. NO HIDING behind a barrier at our office! When you come in, you will immediately see the work area where we are working on your computer.
Our shops have over 25 full sized work benches where our technicians can give your computer an individual work area for your in-store repair. Our technicians throughout their workday are constantly moving up and down the computer repair benches, giving each computer individual in-store attention. When your computer is running updates or doing scans, the technicians will move to the next computer to keep them moving along for an "assembly line" type process. Our perfected bench computer repair technique allows us to work on multiple computers and keep in-store repair times QUICK and yet keep our computer services through. We've been in the PC repair business for over 20 years now and each year at Quick Connect, we are perfecting our in-store processes as we become more efficient fixing computers locally!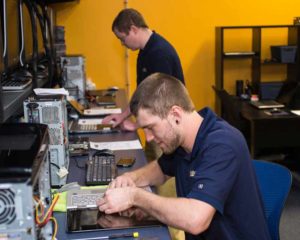 We stock a large Inventory of computer hardware and software in our store so PC repairs are not waiting on normal parts needed for the repairs. If a computer part is a special order, we will work closely with the vendors in order to keep turn around time fast on our local computer repairs. Having the in-store Inventory for computer parts allows us to complete repairs much faster than shops that have no Inventory or a very limited Inventory. It is not possible to have every necessary part to fix a wide variety of computers in stock, but from experience, we know what parts are the most common and strive to keep our in-stock Inventory of computer parts relevant and effective in order to keep repairs moving back to the customers quickly. We get it, you need your computer repaired and you need it repaired FAST!
When your computer is done being repaired, many customers will opt to pick it up but free delivery and setup is also available for our local, carry-in customers. Sometimes when onsite repairs need to come in, we will also deliver those computers back out to clients with a smile. We will work around YOU to offer you the best computer repair experience from start to finish.
Contact US! For a Quote today or for Directions to our stores.